This summer, Setyl is introducing you to a range of features that will further elevate your company's IT management processes. From empowering managers and supervisors with tailored restrictions to streamlining activity for linked assets, their latest updates ensure efficient and accurate operations.
Empower Managers & Supervisors with Customized Restrictions
Administrators are now able to restrict the visibility of Managers and Supervisors. Limit the access of your Managers and Supervisors to only see the People and Assets in specific Departments, Locations and Legal Entities. This is managed from the User Restrictions tab in Company Settings.
No more information overload; experience the convenience of tailored visibility.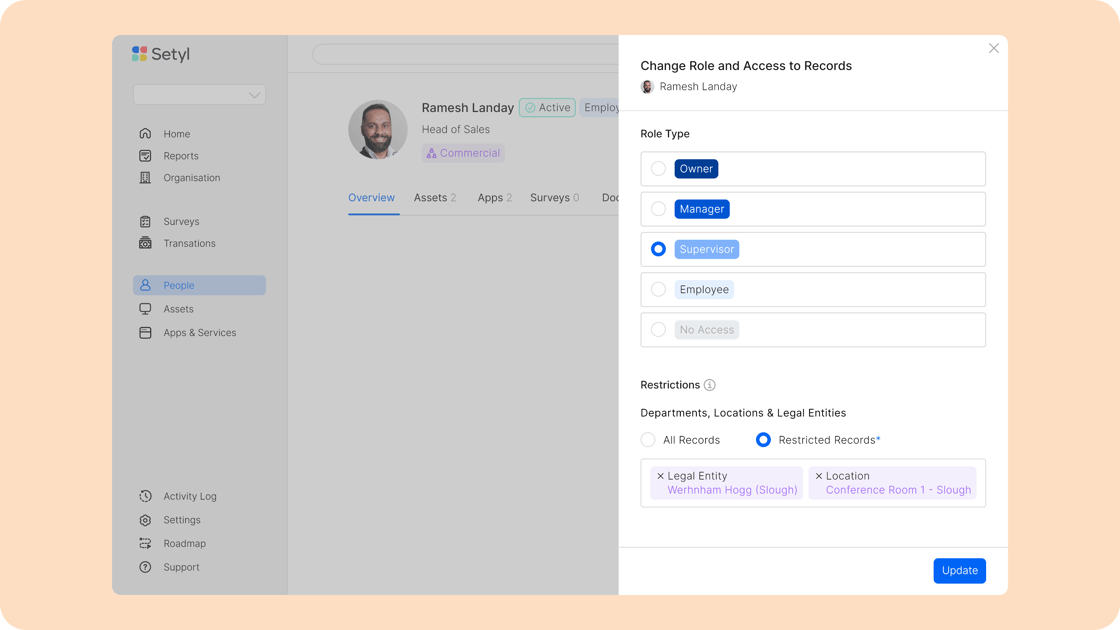 ---
Streamlined Asset Linking
A powerful new feature that takes the hassle out of managing linked Assets. With our latest update, any changes made to an Asset will automatically be reflected on all other Assets linked to it. For instance, when you assign an Asset to a person, these changes will also be made to all Assets that are linked to it. This functionality is particularly useful for commonly linked assets like laptops and their chargers, keyboards and mice.
Goodbye to repetitive manual Asset updates and enjoy the efficiency and accuracy of synchronized changes across linked Assets.
---
On-Demand Integration Synchronization
We're excited to announce a new feature that puts you in the driver's seat. You now have the power to manually trigger a synchronization with an application you have integrated with, so you no longer need to wait for overnight updates.
Navigate to "Settings" > "Integrations" and head to the specific integration you wish to sync. Click on the three dots and select "Sync now" to instantly update your company's data.
The flexibility of on-demand synchronization gives you a comprehensive inventory at your fingertips whenever the need arises.
---
Empower your Workforce with the new Employee Dashboard
The new Employee Dashboard brings a user-friendly interface for "Employees" in Setyl.
Enable or disable the "Configure the level of Employee Access" toggle in "Company Settings" > "User Permissions" tab, depending on the level of access you wish your employees to have in their dashboard.
When "Configure the level of Employee Access" is enabled:
✅ Employees sees the "Big Blue Plus" button so, they can "Add Asset".
✅ Employees can edit basic information about their Assets.
✅ Employees cannot un-assign Assets from themselves.
✅ Employees can edit Applications and Licenses for which they are the Administrator.
✅ Employees can view all Licenses they have been assigned access to.
When "Configure the level of Employee Access" is disabled:
✅ Employee can view the Assets they are assigned. They cannot edit any Asset fields.
✅ Employee can view the Licenses they are assigned. They cannot edit any License fields.
---
Discover new HR Integrations
Setyl now integrates to 34 HR software providers. Joining their esteemed lineup are:
Breathe
IRIS Cascade HR
Lucca, SD Worx
RUN Powered By ADP
AFAS Software
Azure Active Directory
Ceridian Dayforce
Unlock the power of these industry-leading connections and take your HR operations to new heights.
---
Setyl continues to elevate and innovate on your ability to manage your IT management processes and streamlining your ability to manage your IT assets. We continue to look forward to what new features Setyl will bring next!